您的位置:行业技术知识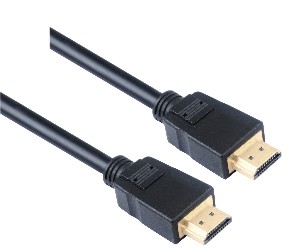 What is the HDMI cable?
HDMI Cable, HDMI cables, HDMI leads, HDMI, and HDMI switch are terms that are used frequently but which, as terms,can be confusing, so it's worth starting from the top and explaining what it is, and why you should use it before then recommending where to find the best HDMI deals.
HDMI is a compact audio/video interface for transmitting uncompressed digital data.
HDMI cables or HDMI leads are audio and video cables that connect to devices. These cables transmit uncompressed digital data in high definition format for display purposes to high definition devices.
It's advisable that you use HDMI over analog because HDMI is a digital interface, and therefore provides the best quality. HDMI combines video and multi-channel audio into a single cable making it cost effective and easy to use. HDMI provides two-way communication between the video source and the display, which means manual formatting is no longer necessary.
An HDMI Switch Box is required when you have more devices with HDMI outputs than devices with HDMI inputs. An HDMI switch lets you connect multiple HDMI cables to a device, which has limited HDMI inputs. For example, let's say you have a high-definition television with one HDMI input, and a PS 3 and a Blu-Ray player with HDMI outputs, you'll need an HDMI switch to resolve the problem of too many HDMI cables for one HDMI input.
HDMI cables fall under a number of categories and are
defined in different ways, which can make understanding
the differences between different kinds of HDMI lead
difficult. HD cables can be categorized by their
specification, for example, HDMI 1.4, HDMI 1.3, HDMI
1.2, HDMI 1.1, etc. This ultimately relates to the
speed they are tested to be able to deliver.
HDMI 1.1 can transmit 1080i and 720p video and these
resolutions require a clock rate of 74.25 MHz, and
742.5 Mbps per data channel. With HDMI specification
1.3, the single-link bandwidth limit per data channel
was increased to 3.4 Gbps, to be able to deliver deep
colour and higher frame rates. Naturally, a cable,
which transmits at 742.5 Mbps will unlikely, be able to
cope with a much faster data rate, so HDMI 1.3 launched
two categories. These creatively named categories were
called Category 1 and Category 2, which relates to the
speeds they were tested at. Category 1 was tested at
742.5 Mbps and Category 2 at 3.4 Gbps. A cable which
has been tested to Category 2 can handle data at any
speed up to this tested limit and cables that pass
Category 1 can take speeds up to 742.5 Mbps, which
equals 720p or 1080i HD resolutions at normal frame
rates and eight-bit colour depth.
Understandably, this has more than confused many
consumers out there, and industry soon realised that
what customers really want to know is what this
technological information means in layman's terms.
Thankfully, HDMI cables are now referred to, much more
simply, as Standard and High. HDMI leads are also
increasingly being defined by their purpose, which
means HD Cable Info is becoming more transparent, which
is great news for customers.